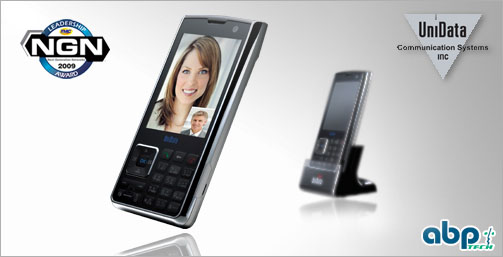 ---
UniData handsets provide, personal videoconferencing over WiFi networks
During CeBIT 2009 UniData Communication Systems Inc. introduced their SQ-3000. This wireless handset is a truly mobile, standards compliant, video conferencing solution enabling voice and video communication across wi-fi networks.
The handset is aimed at both business and personal use. It supports SIP (Session Initiation Protocol), enabling users to make and receive phone calls via their company IP PBX or VoIP services, and H.264 / MPEG-4 enabling phone to phone or phone to video conference system video calling., all over existing 802.11a and 802.11bg wifi networks.
The handset has an easy-to-use, mobile phone user interface, and includes a phonebook with up to 1,000 contacts, muting and call waiting capability. The device can also include a full-featured web browser capability, and has a full range of WiFi security options, including 128-bit WEP and WPA.
The handset supports high-resolution video telephony on its 2.8-inch touch screen with 320x240 resolution. Suitable for conference call between branches at home and abroad, it offers up
to 3 hours of video calling and 6 hours of voice calling time. It weighs just 135g (0.297 lb).
Other features included 30 fps video recording/playback, G.722.2 Wide-band audio codec, conference call, mp3/mp4 playback and XHTML browser.

Contact ABP to learn more about this revolutionary handheld Wi-Fi Video phone.