| | |
| --- | --- |
| MOBOTIX Hemispheric Q24M | |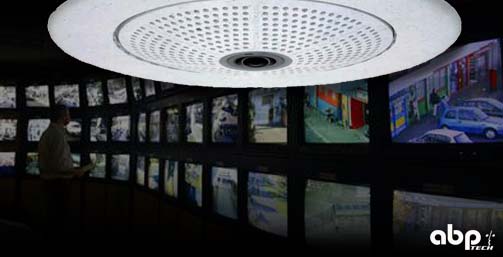 ---
Cost Effective and Time Saving IP Surveillance
The Mobotix Q24M is an excellent camera for use in rooms with open spaces such as convenience stores, restaurants, office spaces, and gymnasiums. Thanks to its hemispherical lens, a single Q24M can monitor an entire room including the four corners. This approach can save a lot of expense and installation time when considering how many additional typical cameras would be needed to cover the same area. Generally you mount the camera to the ceiling in the center of the room. Rooms to 150' on each side provide recognizable details to the borders of the room. If you only need to monitor specific objects and the presence of people entering the room than rooms up to 360' on each side are adequate.
When utilizing POE, only one CAT5e cable needs to be run from the head end to the camera further reducing cost and installation expense. The Q24 also contains all the software logic within the camera itself allowing live and remote viewing from your favorite JavaScript enabled browser (Windows, Macintosh, Linux).

Cost Scenario
Consider a small retail store that has a glass front and is closed at night. They want to eliminate false motion alarms and cover the entire floor area with recognition at the lowest possible cost. They also have a management PC on site with 500 GB of available space. In this scenario we use one Q24 camera with the optional ExtIO extension module which includes a PIR Sensor. The PIR motion sensor is used to determine motion. This has an inherent advantage over pixel based motion detection as it will not trip on lightning or car headlights shining through the store window. The Q24 lens provides enough detail for recognition with one camera. Only one cable is needed from the camera to the switch in the back room. Upon motion at night an email, phone call or IP Notify message can be sent to alert the business owner.
Now consider the analog solution. To get the same level of detail for recognition, four to eight cameras are needed. In addition each camera has to have a Siamese coax cable ran to the back room and connected to an 8 channel DVR and the camera power supply. A stand alone PIR motion sensor must also be installed. Upon motion at night only an email can be sent.
As you can see the Q24M is a cost effective and comprehensive solution for small to medium size open floor spaces.
Mobotix Camera Q24-Hemispheric Spec Sheet 0.51MB
Booklet "Successful Applications Worldwide" 11.95M
Mobotix Cost Benefits and Technical Advantages 0.39M
Mobotix Features Overview 0.38M
Mobotix IP Camera Technology 0.35M
Using Snap Servers with Mobotix Cameras 4MB