Cisco Phone Adapter 2102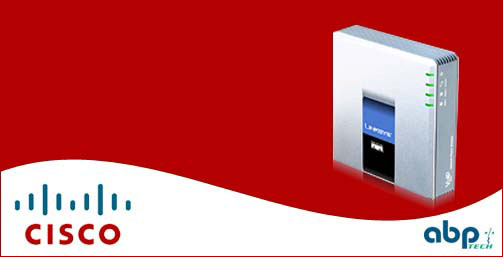 ---
2 Ports FXS Analog Telephone Adapter, 2 Ethernet Ports LAN-WAN
Inexpensive, easy-to-install and simple-to-use, the SPA-2102 connects standard telephones and fax machines to IP-based data networks. IP telephony service providers and enterprise users can offer traditional and enhanced communication services via the customers' broadband connection to the Internet or Local Area Network (LAN).
The SPA-2102 features two POTS (Plain Old Telephone Service) ports for connection to existing analog telephones, fax machines, PBX and key system communication platforms. The SPA-2102 includes an Ethernet interface for connecting to a home or office PC (LAN) as well as an Ethernet connection to the broadband modem or router (WAN).
The SPA2102 was announced by Linksys as a replacement for the SPA2100. What is the difference from the SPA2100? There is an additional 1MB of flash memory, and it has 10/100 ports and improved router throughout.
The SPA2102 ATA is a 2 FXS port + T.38 + simultaneous G.729 calls + Router
Product Line Overview
Product Applications Scenarios
Resources
Independently configurable phone ports.
Two voice ports (RJ-11) for analog phones or Fax machines
Fax: G.711 Pass Through or Real Time Fax over IP via T.38
Message Waiting Indication - Visual and Tone Based
Distinctive and configurable ringing;
Selective / Anonymous Call Rejection;
Off-Hook Warning Tone; Speed Dialing; Do Not Disturb;
Call Return, Call Waiting, Cancel Call Waiting
Caller ID with Name/Number, Caller ID Blocking
Call Waiting Caller ID with name and number;
Call Forwarding: No Answer/Busy/All; Call Transfer;
Three-Way Conference Calling with Local Mixing;
Call Back on Busy;
Call Blocking with Toll Restriction;
Delayed Disconnect, Hot Line and Warm Line Calling;
Downloadable firmware updates;
Speed Dialing of 8 Numbers / Addresses
Terminating Impedance Agnostic - 8 Settings
G.711 (A-law and µ-law); G.726 (16/24/32/40 kbps); G.729 A (both FXS port);
G.723.1 (6.3 kbps, 5.3 kbps)
Corporate Private Telephony Networks
Internet Telephony Service Provider Network for Residential Users ISP Voice Services
OPX Off Premise Extensions for PBX or IPBX (Phone and FAX)