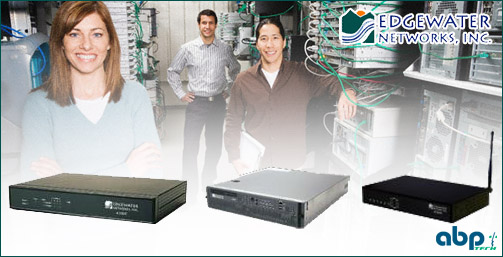 ---
Critical solution products for service providers and enterprises looking for better monitor/manage VoIP quality.
The EdgeMarc suite of Converged Networking Appliances offer small to large enterprises reduced operational and capital expenses of up to 90% while improving call quality, security, and simplifying the user experience. They are an all-in-one solution that contain all of the features needed to deliver business class VoIP services. All EdgeMarc products are Plug & Dial ready, allowing service providers and enterprises to install hosted VoIP service in minutes, not hours.
The Edge View VoIP Support System is a VoIP troubleshooting and monitoring pltaform that allows service providers and enterprises to deliver the best possible support at the lowest cost. Several operators have seen a marked improvement in installation/configuration time, call resolution as well as a reduction in hard operational costs. The EdgeView system scales with the Service Provider or Enterprise and is available in a redundant, high availability carrier-grade form factor.

The EdgeView Reports is an advanced yet easy-to-use reporting tool that provides valuable VoIP performance information to network planners, operators, product managers, executive management teams and end-users. The EdgeView Reports server works in conjunction with the EdgeView VoIP support System and EdgeMarc routers to provide unprecedented visibility into the performance of today's converged networks.
The EdgeProtect platform is designed to protect managed VoIP service providers from network-based attacks and perform NAT/FW traversal for "road warriors" to extend the reach of VoIP services. It combines topology hiding, dynamic session admission control and stateful packet inspection to secure critical VoIP and data infrastructure components such as VoIP softswitches, gateways and media servers. The EdgeProtect platform is available in two form factors: 5300 Series - Provides 2 x 10/100/1000 Mbps Ethernet interfaces, and support for up to 500 simultaneous VoIP calls. 6400 Series - Carrier grade system providing 2 X 10/100/1000 Mbps interfaces, redundant AC or DC power and support for up to 1000 simultaneous VoIP calls.
Contact ABP to learn more about these devices.
Feature List
Technical Specifications
Downloads
Several form factors, scale
VoIP survivability
SIP, H.323 support
Automated phone configuration
Call quality monitoring, MOS prediction
Raw quality statistics (jitter, latency, etc,)
NAT/PAT
VoIP and Video over IP prioritization
Traffic shaping, Diffserv, Policing, Call Admission Control (CAC)
Stateful packet inspection firewall
VoIP protocol aware NAT/firewall
SNMP, telnet, SSH, HTTP, HTTPS, Radius
Syslog external and local reporting
PING, traceroute, TCPdump utilities
Plug & Dial
Integrated FXS/FXO
Expandable up to 4, T1's using MLPPP or MLPPP/FR
Integrated IAD/gateway for analog and PSTN connectivity
Integrated WiFi
Automated plug & dial setup of IP phones, EdgeMarc and EdgeConnect devices
Advanced knowledgebase
Configuration/setup of CPE including EdgeMarc, EdgeConnect, and IP phones
MOS (mean opinion score) statistics capture - continuous and historical
Proactive notification of poor call quality using SNMP traps or email
Call signaling capture and analysis for advanced troubleshooting (call-ladders)
Secure transfer of User Agent authentication credentials
Local EdgeMarc storage of configuration files
Works with existing NMS infrastructure
Image management and group upgrades for multiple nodes
High availability with optional dual redundant, hot swappable AC or DC power supplies
GUI-based interface
Tiered administration privileges and multiple user accounts
WAN Ports - 1X10/100 Mbps Ethernet only models 200E and 200EW
ADSL Ports: 1 x ADSL, ADSL2, ADSL 2+ only models 200A and 200AW
LAN Ports - 4X10/100 Mbps Ethernet
Serial Ports - 1XRS-232 (DB9)
Dimensions - 1.7" (H) x 6.3" (W) x 10.5" (D)
Weight - 2 lbs
Power - 12V, 3.0 A
Operating Temperature - 5°C - 40°C ambient
Humidity: 20%-80% non-condensing

Regulatory - UL, CE, FCC, Part 68, FCC part 15, Industry Canada CB
Ports: 2 FXS, 1 FXO.
WiFi: 802.11 a/b/g only models 200EW and 200AW
VLANs: 16
WAN Ports - 1X10/100 Mbps Ethernet
LAN Ports - 4X10/100 Mbps Ethernet
Serial Ports - 1 Female DB9
Dimensions - 1.7" (H) x 10" (W) x 7" (D)
Weight - 2 lbs
Power - 12V, 3.0 A
Operating Temperature - 5°C - 40°C ambient
Humidity: 20%-80% non-condensing

Regulatory - UL, CE, FCC, Part 68, FCC part 15, Industry Canada CB
| | | | | | | |
| --- | --- | --- | --- | --- | --- | --- |
| | 4500 | 4500T4 | 4508T4 | 4508T4W | 4562T4W | 4508E |
| T1 | | up to 4 | up to 4 | up to 4 | up to 4 | |
| FXS | | | 6 | 6 | 2 | 8 |
| FXO | | | 2 | 2 | 6 | 0 |
Ports:
WiFi: 802.11 a/b/g only models 4508T4W and 4563T4W
USB Ports: 2
VLANs: 16
WAN Ports - 1X10/100 Mbps Ethernet
LAN Ports - 1X10/100 Mbps Ethernet
Aux Ports - 1X10/100 Mbps Ethernet
Serial Ports - 1XRS-232 (DB9)
Dimensions - 1.68" (H) x 16.88" (W) x 14" (D)
Weight - 13 lbs
Power - 100/240v VAC, auto-selecting, 50 to 60 Hz
Regulatory - FCC part 15, VCCI Class A, MIC, C-tick, ICES-003, RoHS
WAN Ports - 1X10/100 Mbps Ethernet
LAN Ports - 1X10/100 Mbps Ethernet
Aux Ports - 1X10/100 Mbps Ethernet
Serial Ports - 1XRS-232 (DB9)
Dimensions - 3.45" (H) x 17.14" (W) x 20" (D)"
Weight - 45 lbs
Power- 2x600W AC or DC Power Supplies
Regulatory - Safety: RoHS, UL 60950, CSA 60950, IEC 950, TUV/GS EN60950
Emissions: FCC ClassA, CISPR 22 Class A, EN 55022 Class A, VCCI