Digium AEX/TDM410 cards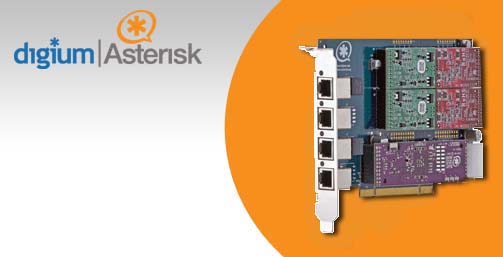 ---
The Soho Solution - Scalable, Effective and Cost Efficient
The AEX/TDM 410 series card supports from one to four telephone interfaces for connecting analog lines to a PC. It is possible to create SOHO (Small Office Home Office) telephony environment with all of the sophisticated features of a more expensive phone system by using Asterisk PBX software an standard PC hardware.
The 410 series card features Digium's patent-pending VoiceBus technology on a PCI interface. It is compatible with Digium's existing station and trunk analog modules.
The 410 series card brings the system price to a low level by taking the place of an expensive channel bank. FXO and FXS modules are compined to create a solution to support a range of telephones. Scale this solution by adding additional cards and/or FXS or FXO modules. It also provides the capability of connecting to hardware-based echo cancellation module VPMADT032, providing 128ms (1024 taps) of AT&T certified Toll Quality G.168 compliant echo cancellation

The naming convention for the card bundles is as follows:
TDM4XYZ or AEX4XYZ, where
TDM is a PCI 1.1 interface card
and AEX is a PCI-Express x1 telephony interface card
X represents # of Station (FXS) modules, 0-4, Y represents # of Trunk (FXO) modules, 0-4 and Z represents either: B for units that are Software echo cancellation E for units that use Hardware Echo Cancellation.
Contact ABP for more details about Digium's product line.
Feature List
Technical Specifications
Product Applications Scenarios
Downloads
Caller ID and Call Waiting Caller ID
ADSI Telephones
PCI Half-length Slot
RJ-11C Connector
500-Mhz Pentium III or better with 64MB RAM
Must have available PCI Slot
Operation Range: 0° to 50°C, 32° to 122° F
Operation Range: 0° to 50°C, 32° to 122° F
Storage Range: -20° to 65°C, 4° to 149° F
Humidity: 10-90% non-condensing
Small Office Home Office (SOHO) applications
Gateway Termination to Analog Telephones
Add Inexpensive Analog Phones to Existing PBXs
Wireless Point-to-Point Applications between Asterisk Servers
Analog AEX/TDM410 series Product Sheet 1,01MB
VPMADT032 Product Sheet 670KB