ClearOne's Interact™ AT-OC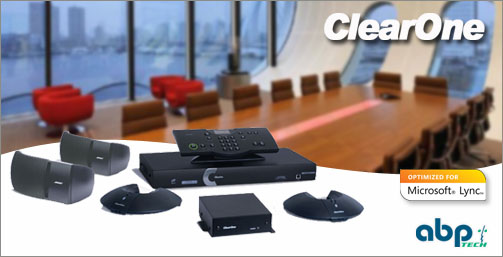 ---
Microsoft Lync Server Certified HD Quality Audio Conferencing
The INTERACT™ AT-OC is the first Microsoft Communication Server certified device capable of providing HD quality audio conferencing for large group conference environments. Simply plug your PC USB into the INTERACT™ AT-OC and bring the Communication Server rich collaboration of video, voice, and sharing into the conference room. Using the Microsoft Communicator in conjunction with INTERACT™ AT-OC eliminates the complicated routine of setting up a video conference or teleconference. Connect and collaborate just like at your desktop, INTERACT™ AT-OC takes care of the rest creating an immersed audio experience in the conferencing room.
Applications:
- Use Collaboration capabilities in the group room
• Video conferencing
• Web conferencing
• Audio conferencing
- Enable Lync Server in group rooms
• Boardrooom
• Training Center
• Executive Office
Advantages
- Bring Lync Server Voice into the Conference Room
• Just add a PC to run the Lync Server
• The PC connects to INTERACT™ AT-OC via USB

- Create Group Video Conferencing using Lync Server at a fraction of the cost
• Just add the PC, LCD and USB camera to INTERACT™ AT-OC
• HD capabilities with LYNC Server

- As easy to install as a Conferencing Phone
• Plug & Play
• No programming required
• Uses Desktop Lync 2010
Contact ABP to learn more about these Conference VoIP phones.