Audiocodes E1/T1 PCI VoIP Media Processing Board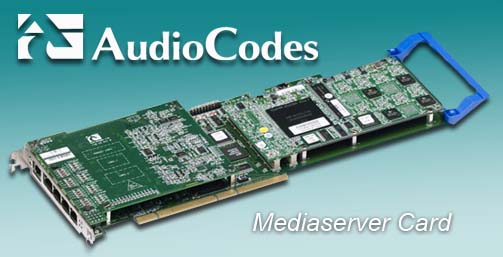 ---
The ideal product for designing a wide range of solutions combining PSTN and VoIP networks
The IPM-260 is a complete VoIP media processing solution providing IP and PSTN interfaces to build next generation applications for both today's and tomorrow's networks. By combining these capabilities on a single board, the IPM-260 can eliminate a number of separate special-function boards, resulting in reduced inventory, increased over all system density, reduced costs and improved time to market.
A broad selection of firmware-based media processing capabilities is available with the IPM-260 including: message record playback, conferencing, voice coding, echo cancellation, fax processing and call progress tones detection. Each channel resource on the IPM-260 is universal and can perform media processing function while utilizing full flexibility in end points.
The IPM-260 utilizes a module, which is based on the VolPerfect™ architecture, AudioCodes' underlying core media gateway technology.
Enabling accelerated design cycles with higher density and reduced costs, the IPM-260 is an ideal building block for scalable, reliable VoIP solutions. With the IPM-260 comprehensive feature set, customers can quickly design a wide range of solutions for PSTN and VoIP networks.
Contact ABP to learn more about Audiocodes Mediaserver Card.
Feature List
Technical Specifications
Product Applications Scenarios
Downloads
240 universal ports supporting voice, fax and data
Various voice compression includes G.711, G.723.1, G.729A&B
Voice Record/Playback
Real-time multi-party conferencing
Interchangeable RTP or PSTN or TDM endpoints
Comprehensive IVR control
VoIP packet streaming (RTP/RTCP) per RFC3550/3551
MVIP, SCbus and H.100 CT bus interface support
Automatic Speech Recognition (ASR) and Text To Speech (TTS)
30, 60, 120, 240 universal ports
Voice Messaging, Recording
Host based record/play, WAV format (G.711. G.726, MS-GSM)
Fast slow Playback with pitch correction
Timeslot summation – Record RX+TX of the call
On board announcement storage – 10 Mb: 20 minutes of G.711, 200 minutes of G.723
Recording/playback using standard HTTP or NFS streaming
RTP forking replications of lawful intercept (CALEA)
N-way Conferencing
Supports up to 240 ports of mixed IP, PSTN and TDM participants
Maximum simultaneous 3 – way conferences per board: 80
Maximum full – duplex parties per conference bridge: 64 endpoints
Support various conference control modes
Fax Relay. Real time over IP/T.38 compliant, automatic fallback to G.711 and VBD for up to super G-3 fax machines.
ASR – 3rd party Recognition Engines
Host based architecture – Media stream over PCI
Distributed architecture – Media stream over VoIP RTP
Voice processing
G.711, G.723.1, G.729A/B, G.726/G.727 NetCoder, MS-GSM, GSM-FR
Voice Activity Detection VAD and CNG
Echo Cancellation: G.168 compliant 32, 64 ms echo tail; 128 tail available with reduced channel capacity
Transcoding of any LRB to another LRB or G.711 to any LBR
Gain Control Automatic AGC or Programmable
Inband/Outband Signalling Packet side or PSTN side, DTMF and tone detection and generation, CAS Realy, RF2833
Management
SNMP V2c Standard MIB-2, RTP MIB, DS1 MIB
Embedded Web Server
Windows 2000, XP, 2003. Linux Solaris on Sparc/Intel
PSTN Signaling
CAS T1 robbed bit, MFC/R2 numerous country variants
CCS ISDN PRI numerous country variants including ETSI, Euro ISDN, ANSI NI2, DM5, 5ESS, Japan INS1500
SS7 Signaling. SIGTRAN M2UA and M3UA and IUA over SCTP per RFC 3057/2960
Ethernet-RJ-45 10/100 Base T
Physical Interfaces Form factor – Full length universal PCI
TDM Interfaces – MVIP, SCbus or H.100
Telephony – 120 Ohm – RJ48C connectors
Universal PCI 5V/3.3 V signaling
PCI bus – 32/64 bit, 33/66MHz
Power 3.6A at 5V with quad E1/T1 interface
Contact Centers
Conference Servers
IVR Servers
Unified Communications/Messaging
Voice Portals
CTI Applications
Voice Recording