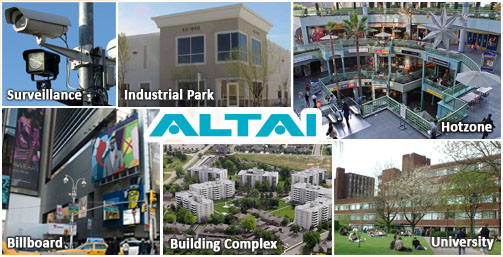 ---
| | |
| --- | --- |
| Altai WiFi Solutions | |
The fastest-growing embedded WiFi segment is mobilehandsets, just look at theIPhone 4. By 2011, dual-mode cell phones will probably surpass PCs as the largest category of Wi-Fi devices. And WiFi enabled devices will likely reach 1 billion by 2012.

If this sounds like a business opportunity for you, then ABP Technology is uniquely positioned to help you succeed in this exploding market. We are the North American value added representative of the Altai Super WiFi system that has been deployed in over 50 countries including US landmarks such as Rockefeller Center and throughout the entire Island of Jamaica.

The Altai system architecture is simple to present and with ABP Technology's technical support and network / services design, all you really need to do is to find the opportunity. Altai is not a WiFi Mesh network so you can be assured that the bandwidth and quality required for all your real-time applications will be available.

Below are some typical applications. Please Contact Us if you need help designing your wireless project.
The basic components of the system are outlined below:

Altai A8 - Super WiFi and Altai A8 E are based on the Altai Smart Antenna™ technology featuring Dual-Diversity Beam forming design to always select the best signal and in conjunction with Altai's advanced signal processing algorithms works to provide consistent 360-degree coverage (5 Km NLOS / 1.5 Km LOS). The A8's signal reach / footprint, interference mitigation and networking and expansion capability makes Altai's cost of operation / ownership among the lowest in the world.
Altai A3 Smart WiFi a highly versatile WiFi 802.11n device designed for indoor and outdoor installation with coverage of up to 150 m NLOS and is back-ward compatible with 802.11 b, g. The A3 can provide dual-band (2.4G and 5GHz) backhaul links with its built-in antenna array or external antenna option and come with an integrated Service Controller. The A3 is one of the one of the most flexible and powerful WiFi device for easy deployment supporting up to 512 simultaneous user data sessions.
Altai A2 WiFi Pico Access Point / Bridge is our latest 802.11 n device with a total data throughput similar to the A3 at approximately 120-150 Mbs. It functions as a integral part of Altai's network architecture with 5 GHz backhaul. The A2 can also function as a stand-alone Access Point. You can even set up a 4 node AP network with 5 GHz backhaul using only A2s. The A2 supports up to 256 simultaneous user data sessions and is IP67 certified for installation in even the most severe outdoor weather conditions.
Altai C1 WiFi CPE an indoor and outdoor usage device, with a high capacity 2.4GHz broadcast radio that allows it to convert the access coverage from A8/A8E/A3 to standard Ethernet connection for desktops.
Please see the Altai Solutions Brochure for the complete product line.
These products are only sold through certified resellers and with ABP Technical support.

Contact ABP to discuss your Wireless project and to learn more about Altai base stations.
Solution Highlights - Citywide WiFi
Market Application A3 Smart Antenna