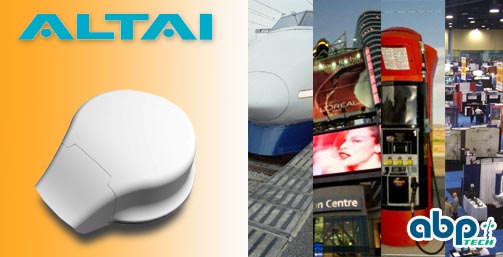 ---
Altai A3 Smart WiFi
The Altai A3 is one of the first indoor/outdoor 802.11n WiFi products in the market. It is capable of providing the highest possible data throughput that the 802.11n standard can offer, and at the same time is backward compatible to standard 802.11a/b/g. The A3 is an evolution of the Altai A8 - Super Wi-Fi basestation into a smaller unit designed so it can be used in indoor spaces too.

Combining MIMO, patented smart antenna technology, and multi-radio hardware design, the Altai A3 Smart WiFi extends Altais technological leadership in advanced wireless broadband solutions and gives superior performance under many deployment scenarios.

The Altai Smart A3 is a highly versatile WiFi device designed to replace 3 to 6 conventional APs and for deployment in different operating modes depending on the application. For example, the A3 can replace a clouster of conventional access points limiting roaming problems, it can act as a repeater to extend the outdoor WiFi signal to indoor areas, or it can be configured as an AP with dual operating channels to double the AP capacity. Furthermore, the A3s can interconnect to each other with a mesh-type backhaul and provide WiFi access simultaneously. Different operating modes are easily configured by software.

The Altai A3 Smart Wi-Fi can provide dual-band (2.4G and 5GHz) backhaul and access links with its built-in antenna array or external antenna option, making it the most flexible WiFi device for easy deployment. There is an optional connection to a HSPA/WiMAX/LTE backhaul module so that the A3 can be installed in public transportation (bus, train, ferry) to provide WiFi services to passengers with ubiquitous backhaul. The Altai A3 has the following distinctive features:
•
True design for outdoor and indoor use
•Support 3G/WiMAX backhaul
•Hotspot-in-a-box
One Product Multiple Applications
Multiple-radio for High Capacity
Flexible Mounting & Aesthetic Design

Apart from the advanced features offered by the Altai A3 Smart WiFi, the A3 can be installed in both outdoor and indoor environments. The weatherproof IP67 design makes it possible to withstand harsh outdoor environments, and the aesthetic appearance allows flexible installation in indoor environments including shopping malls, hotels, campus and vehicles. The A3 has several mounting options to suit different site requirements; it can be mounted in or under the ceiling, on walls, and on poles.
This product is only sold through certified resellers and with ABP Technical support.

Contact ABP to discuss your Wireless project and to learn more about Altai base stations.
Technical Specifications
Downloads
• Operation mode: AP/Repeater/CPE/Bridge

• Ordering options: 2 or 3 a/b/g/n dual band radio

• USB port for external 3G/WiMAX dongle

• 10/100/1000 Mbps GE port

• LEDs indication for Power, Radio and Ethernet

• Power source: PoE injector

• Power consumption: 20W (typical)/ 30W (maximum)

• Operating temperature: -33 to 60 °C

• Humidity: 0 to 95% (non-condensing)

• Weatherproof: IP67

• Dimension: Ø23.2 (D) x 9.4 (H) cm

• Weight: 1.5 kg

• Mounting: Ceiling/Pole/Wall-mounted
Altai A3 Brochure 1.05 MB
Market Application A3 Smart Antenna 1.47 MB