| | |
| --- | --- |
| Altai Technologies | |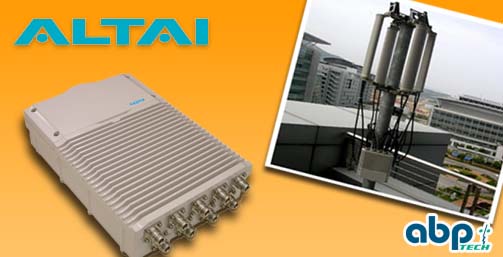 ---
Wi-Fi Cellular Base Station A8: A New Generation of Metropolitan Wireless Broadband based on Wi-Fi Smart Antenna Technology(TM)
Mobile devices like Laptops, the iPhone's or Wi-Fi handheld terminals all have power limitations and relatively weak signals. Altai created a unique smart antenna signal processing technology enabling all these devices to operate at much longer distances than before.

Altaí Smart Antenna(TM) technology is based on principles used in deep space sensing and transceiving equipment. Altai's high sensitivity and long two-way operating range makes Wi-Fi platform rollouts significantly less expensive than alternatives while improving users experience. Network installation costs are decreased significantly by bringing down the number of access points, installation and backhaul points as well as reducing long-term lease and operation and maintenance expenses.

Now being used throughout the world in City wide and High-Traffic Servcie Provider Deployments, Campus, Industrial and Rural deployments, Altai Technologies A8 base stations have been proven to be the most effective in far reaching urban and remote Wi-Fi applications.
With Altai A8, setting up a WiFi cellular base system is easyier, faster and less expensive compared to conventional mesh systems. With today's mesh technology, roughly 15 to 30 units are required to provide a square mile of coverage. Altai's higher reach technology requires significantly fewer units per square mile and also provides lower latency service, faster throughput and more connected users.
Altai Technology's A8 base station application has received world wide renowned Awards based on its improvement on the WiFi signal coverage area by 10 times. Moreover, its application supports real-time applications including Voice over IP, video streaming, and interactive gaming; as well as real-time user mobility with smart antenna beam tracking technologies. For smaller indoor deployment see the Altai A3 802.11 a/b/g/n unit.

Some of the highlighted features of the Altai A8 are:
Extended coverage in a Non-Line-of-Sight (NLOS) environment which matches the foot print of most microcellular deployments in dense urban
environment
Dual-Diversity Beam-forming Smart Antenna Technology to provide a consistent 360-degree coverage with minimal holes in dense urban
environment
Multi-radio platform to maximize both uplink/downlink performances
High data throughput running at 54 Mbps data rate
Supporting real-time applications such as VoIP, video-streaming and interactive gaming with minimal latency
Standard 802.11 b/g access and 802.11a backhaul
Fast Ethernet or integrated 802.11a wireless backhaul
Flexible antenna deployment for various site conditions
Remote Configuration through the Altai Wireless Management System (AWMS)
This product is only sold through certified resellers and with ABP Technical support.

Contact ABP to discuss your Wireless project and to learn more about Altai base stations.
Technical Specifications
Downloads
Power supply: Voltage 80-264 V AC. Power Consumption 58 W (RMS). Frequency 47-63 Hz
Wireless Interface: Standard IEEE 802.11b/g. Operation Mode Access Point. Operating Channel 1 – 13. Modulation 802.11g - OFDM and 802.11b - DSSS. Media Access Protocol CSMA/CA. Transmit Power 5 – 23 dBm in 1dB step. Connect up to 8 Antennas. Transmit and Receive Diversity. Automatic Channel Assignment
Antenna: 802.11b/g Antenna, Frequency 2.4-2.5 GHz, Gain 14 dBi (max.), Polarization Dual Linear ±45°, 3-dB Horizontal Beamwidth 70° ±3°, 3-dB Vertical Beamwidth 11° ±2°, VSWR < 2, Impedance 50, Isolation between Ports > 15 dB, Antenna Connector Dual N-female
Physical Specifications (Base Unit): Dimension 290 x 210 x 89 mm, Weight 5kg (unit weight) / 7.6kg (Gross weight), Mounting Pole or Wall mounted
Networking: 1 to 8 Multiple Virtual AP, VLAN, DHCP Client / Server / Relay, Dynamic NAT, PPPoE Client, PPPoE Pass-through, VPN Pass-through, Switch and Gateway Mode, 10/100Mbps Ethernet Port
Security: Authentication Open system, Shared key WPA/WPA-PSK, WPA2/WPA2-PSK
802.1x (PEAP, TLS, TTLS), Encryption WEP, TKIP, AES, MAC based Access Control, SSID Suppression
Management: Web-based administration tool, CLI-based administration tool (Telnet and Console). SNMP v1/v2c, Altai MIB, Remote Firmware Upgrade. Performance Monitoring
Environmental Conditions: Operating temperature -33 °C to +55 °C (Ambient). Storage temperature -40 °C to +80 °C. Humidity 100% (Condensing). Wind loading 100 mph (Operational) 135 mph (Survival)
Altai A8 Catalog 541 KB
Whitepaper-Cost Elements of City-wide WiFi 50 KB
Market Application Urban Network 500 KB
Market Application Rural & Suburban Network 295 KB
Market Application Hotel 478 KB