Aastra SIP-DECT ™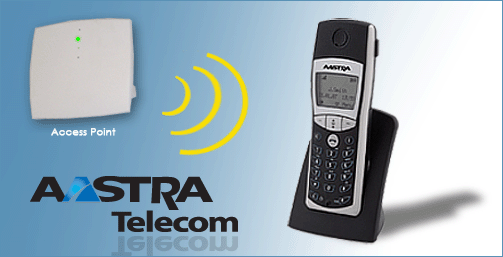 ---
Building Blocks for Mobility
Employing the latest DECT 6.0 technology, the SIP-DECT Solution from Aastra offers superior levels of interference-free performance, security and reliability in a cordless SIP telephone system.
This scalable, enterprise grade, mobility solution allows users to take the features and voice quality of their desk telephone with them throughout their office environment or related branch offices serviced by the same Corporate network.
DECT technology virtually eliminates issues of dropped calls, interference, security and range by employing IP DECT access points that seamlessly "handoff" calls and enable roaming. This system is ideal for any single or multi-location business, retail or institutional setting that requires mobile employees to be available to take or receive calls at any time.
Aastra Cordless SIP deployment using DECT has the following advantages:
DECT 6.0 standard in the 1.920-1.930 GHz
Users are provisioned as SIP extensions
Fully feature enterprise class Handset
Indoor & Outdoor access points (RFPs)
Reliable, high quality, secure voice access
Seamless handover between access points
Automatic roaming & registration of handsets
Digital quality - automatic best channel selection
DECT Authentication/Encryption
No PBX required in the remote offices/locations
Network size depends on the IP-infrastructure only
Up to 512 handsets can be deployed using up to 256 IP access points
Contact ABP to learn more about these Aastra™ cordless phones.
Features
Technical Specifications
Downloads
Call Forward: always, busy, no answer (phone side)
Call logs: dialed, missed, received
Personal directory 100 entries
Redial list
Call Transfer: blind, consultation
Call waiting
MWI
Caller ID with name
DND
Call Hold with visual indication, reminder tones
Missed call indicator
Speed dial quick call key assignment
Call blocking / filtering
30 ring tones
Single and Continuous Ring
Loud Speaker (hands-free mode)
Speaker / Earpiece Volume Adjustment
Ringer Volume Adjustment
Vibrate Mode
Keyboard lock
Alarm / Reminder
Microphone Mute
Auto-answer
Country specific tones
Languages English, French, German, Italian, Spanish, Dutch, Portuguese
Site Survey mode with automated test call/answer modes
Synchronization via air interface
GAP compatible
Connection handover according to GAP standard
Authentication/Encryption of base and handset
Operating states monitoring with 3 LEDs
Connection via Ethernet 10/100 BaseT
IPv4, Power over LAN according to IEEE 802.3af
Platform for the Open Mobility Manager
8 simultaneous Voice and up to 12
Signaling Channels
Endpoint for media streams
Packet handling via RTP/RTCP
Network Boot, SW-Download / Update
DHCP
Codec G.711, G.723, G.729AB
Support of QoS via DiffServ and ToS-Flag
Jitter compensation
Echo Cancellation
Voice Activity Detection with comfort noise
Central configuration with the WEB - configurator of the "OpenMobility" Manager
Central system log book
Central cluster administration
3 LEDs for signalization of operation status
Alternative wiring from below (Cable channel) or from above (suspended ceiling)
Display (LCD)
4 lines of 16 characters, 3 line text, 1 line soft keys (upper and lower case, 96 x 60 pixels) Illuminated display and keypad.
Status indicators-Ringer off, signal strength, on/off hook, alarm, battery life, envelope,
key lock
Time Display
User Name & Number
Network Subscription
Display Contrast Adjustment
Physical
Integrated Antenna
Size (approx.) 146mm x 53mm x 28mm
Weight 138 grams (inc. batteries)
2.5mm headset jack
Powering
Batteries: 3 AAA 750 mAh NiMH
Input: 100-120V 60 Hz 100mA
Output: 7.5V DC 150mA
Lower Battery Warning
Silent Charging
Desk Charger Power Adapter
Up to 12 hours talk time, 120 hours standby
5-6 hours recharge time
Performance
Frequency: 1.92 - 1.93 GHz
300,000 sq.ft. coverage area (open space)
Coverage Warning
GAP Compatible (EN 300 444)
Site Survey Mode
Auto call generation/answer mode
Aastra SIP-DECT Spec Sheet 0.21MB