| | |
| --- | --- |
| Aastra MX-ONE Compact | |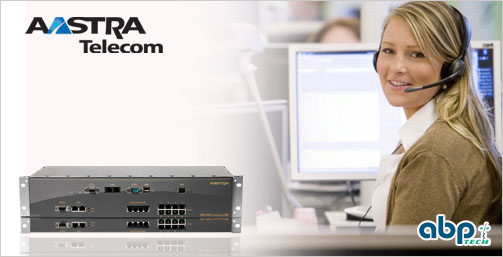 ---
The open path to UC and Mobility
ABP is proud to be the Master Distributor for the MX-One Compact for our VAR's. The Aastra MX-ONE Compact is a full-featured IP PBX solution with a complete suite of applications. Targeted for small and medium businesses with 50 to 300 users, it scales to 1,000 users without additional hardware. Based on the proven MX-ONE IP telephony platform, the MX-ONE Compact provides productivity enhancing tools such as unified messaging and integrated mobility which allow users to be reached via a single number, and they can enjoy the features usually provided by an office desk phone on their mobile phone.
It comes with a complete suite of integrated applications including unified messaging (voice, fax and chat), soft clients, a web-based user interface, Mobile Extension Client, Automated Call Distribution (ACD), automated attendant, Interactive Voice Response (IVR), conversation recording, and a web conferencing portal. MX-ONE Compact fully adheres to the truly non-proprietary Session Initiation Protocol (SIP) standard, thereby enabling communication to be user centric. In other words, communication that is purely between people.

The MX-ONE Compact is a complete Unified Communications solution built around you and your communication needs. It extends existing office communication features to the mobile employee, creating real reachability and It's based on industry standards and an open architecture, so Aastra MX-ONE Compact is easy to integrate with your current infrastructure and can be upgraded to suit changing requirements at whatever pace suits you best. So your investments – both current and future – are fully protected.
Contact ABP to get yours!