Aastra BluStar 8000i Video Conferencing Solution and Desktop Media Phone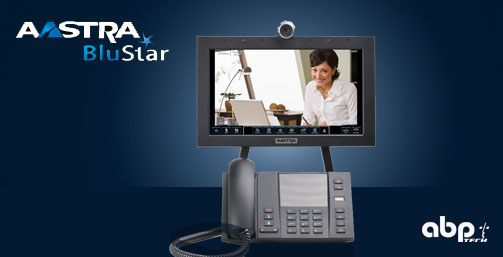 ---
A New Era in HD Video Communication and Collaboration
Offering true HD video conferencing, BluStar uses the latest in video and communications technology to enable a natural high quality collaboration experience. ABP Technology has been working with Aastra video conferencing solutions for years. We started with the ViPr which has evolved into BluStar and we understand how to properly build a true solution with these video collaboration products. ABP is the Premier Distribution Partner for Video Conferencing solutions from Aastra. Look for BluStar certification/training sessions in the Dallas area for VARs and Integrators soon.
HD Video and Sound

Native HD Video
Utilising the large 13 inch color TFT display, the BluStar Media Phone displays true 720p HD video for video calling and video conferencing, making remote communication personal again.
Outstanding HD Audio
Three high frequency HD speakers provide left, right & central audio emission. By supporting the G.722 7KHz audio codec, and Bluetooth handset & headsets, the BluStar 8000i has outstanding audio features.

Smart Microphones
Incorporating 4 steerable array microphones that track your voice location and help eliminate unwanted background noise, the BluStar 8000i audio features enable you to hear and be heard – just like being there in person.

Powerful Collaboration

In-Person Communication
Face-to-face video calls provide a rich in-person communication experience quickly and conveniently. With powerful presence & directory look-up features and ad-hoc conferencing just a click away, the BluStar Media Phone brings people instantly together.

100-Way Video Conferencing
High quality video conferencing made simple.
2 to 100 participants may take part in a single conference with an ability to view up to 15 participants at any one time. Easily and automatically group and invite attendees, store conference details and bring life to team meetings and conferences.
Bluetooth Data Sharing
The Bluetooth interface enables transfer & sharing of data from common Bluetooth devices such as cell phones.

PC Desktop Sharing
Sharing your PC desktop is made intuitively easy promoting quick and efficient information sharing. Live sharing of desktops while still viewing video participants takes productivity to a new level.
Business Intelligence

Your Business Dashboard
BluStar Desktop Media Phones can easily be integrated into daily business processes via built-in and customizable applications. The BluStar 8000i can run productivity enhancing applications simultaneously with video calling making it simple to have real time access to business intelligence. An extensive API & SDK promotes customization and 3rd party application development that will further enhance the power of your BluStar Media Phone.
Advanced User Features
Personal Access
A Biometric fingerprint reader uniquely identifies the user and applies the user's personal profile and settings ensuring secure access from any BluStar Media Phone – Powerful hot desking from any location.
Voice Recognition
Simplifying the user interface by providing a convenient and natural way to interact with a BluStar Media Phone. Simple verbal commands search through directories, initiate calls and interact with applications.

Touch Control
The large 13 inch touch screen display enables users to easily navigate screens and control their BluStar 8000i Media Phone. Full support of gesturing allowing users to flick up/down, left/right through call logs, directories, application data etc.

Intuitive Communication
The BluStar Media Phone has been designed to provide a natural and intuitive communication experience. The HD video & audio quality and the intuitive user interfaces combine to make the Aastra BluStar 8000i Desktop Media Phone a powerful communication tool that brings natural collaboration to every desktop.
Contact ABP today for information and pricing when building an HD Video Collaboration Solution with the Aastra BluStar.