AastraLink Pro 160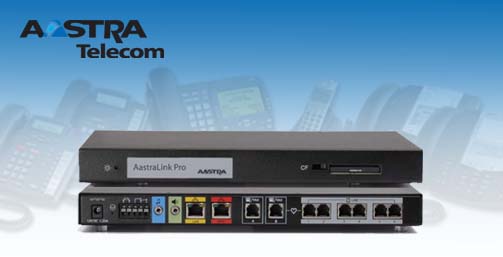 ---
A cost-effective IP PBX created specifically for the SMB Space
Aastra Telecom, a leading provider of standards-based corded and wireless SIP telephones, announced the launch of AastraLink Pro – Model 160. The AastraLink Pro 160 is a Linux-based appliance that hosts Asterisk® open source PBX software. Specifically designed to meet the unique requirements of small business, AastraLink Pro enables users to quickly and easily get phones up and running by simply plugging the system into an existing LAN.
AastraLink Pro provides all the standard PBX/Key system features and functionality while leveraging a host of new IP-based services – including auto discovering and self provisioning of extensions, visual voicemail delivered via XML, SIP trunking, expanded user control via a web GUI, remote teleworker and the ability to network multiple AastraLink Pro's via IP. Designed to be compatible with select Aastra SIP phones, the AastraLink Pro also supports up to 6 PSTN FXO trunks, 2 FXS Analog ports and 1 SIP trunk plus external paging port and a music input port.
The AastraLink Pro grows as your business expands. It can host up to 50 extensions when SIP trunking is used, and up to 9 AastraLink Pro systems can be linked together via IP to create a WAN linked multi site office environment. Remote tele-working from a home office is as simple as taking an auto discovered AastraLink SIP phone and plugging it into your UPnP enabled home network.
By simply plugging the AastraLink Pro into an existing LAN (Local Area Network) it's ready to start communicating without the need of an installation technician. The AastraLink Pro will auto discover and configure any new Aastra SIP phones connected to the system making the need for a service technician to perform moves, adds and changes a thing of the past.
It delivers large PBX functionality to the small business environment. Featuring an Auto-Attendant, which automatically configures on initial startup, the AastraLink Pro manages and directs incoming calls to individuals or groups by extension dialing or name search. In addition, individual Voicemail boxes are also automatically configured and operational at start up. PBX telephony features include: call forward, hold and hold alerts, call log, call transfer, 3 way conferencing, corporate and personal directory.
With no hidden application license or user costs, or the need of an installation technician, AastraLink Pro is a cost effective and powerful small business communication system.

Contact ABP to learn more about this amazing Aastra product.
Local SIP extensions, remote SIP users and SIP Trunking
Auto fax detection and routing
Visual and standard voicemail
Voicemail to Email notification with audio attachment
Operator Console
Auto-attendant (AA) with day/night/holiday scheduling and custom announcements
Easy to use soft key management via global or local user templates with the ability to print soft key inserts
XML interface to on board Push Button Input Trigger and Relay Output
Built in audio in/out circuitry for music on hold and external paging
Standard PBX/Key system functions such as: Busy Lamp Filed (BLF), Flexible Call Forward (CFB, CFNA, CFA), 3-way Conference Calls (3WC) and Call Park
Key System emulation of SLA (Shared Line Appearances) (FXO ports only)
Enhanced system features such as: Find-Me Follow-Me (FMFM), Directed Call Pickup (DCP), Aastra SIP telephone auto discovery and FXO line monitoring via GUI
Up to 6 Foreign Exchange Office (FXO) ports for connection to analogue public telephone lines (PSTN). Each FXO is equipped with on-hook CallerID detection and full G.168 echo cancellation
Simple Deployment.