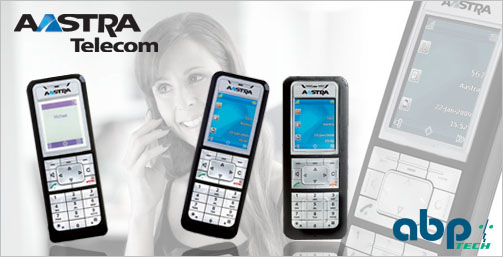 ---
A new generation of DECT phones
Aastra has been a leading manufacturer and developer of DECT systems for many years. It has gathered its wealth of experience into the development of its new 600d family. With the DECT (Digital Enhanced Cordless Telecommunications) technology, these handsets offer a secure and reliable connection to the base station – no matter how dense the volume of traffic may be in a confined area.
Aastra 600d DECT handsets are elegant, yet robust and powerful tools for business communications on the go. With three new models: 610d, 620d, and 630d, the family offers choice and provides a full range of features appreciated by professionals within the organization.
These models include large displays, programmable keys, intuitive user interface, intelligent battery management, hands-free operation and multiple headset connectivity options. For enhanced productivity, the 600d phones offers the regular telephony features of a desk phone: Call transfer, call forward, call hold, call and message waiting indication, speed dials, and call logs, among many others.
Many of its keys are user-configurable, making important functions available at a single keystroke. The configurable keys located below the display can be set up to provide quick access to the functions you use most often. There are more than 40 polyphonic and 8 nonpolyphonic ring tones, allowing you to identify your mobile assistant instantly and by its ring. Different ring tones and melodies are assigned to individual callers, enabling you to know who is trying to reach you.
The 600d family of handsets not only looks good, its modern design conceals a multitude of possibilities for adapting the phone to your individual usage and communication needs. The Aastra 620d and Aastra 630d also allow to match their appearance with your personal preferences and habits, with fully customizable menus, fonts, display contrast and brightness.
The phones' outstanding speech quality makes for crystal-clear mobile communications. And operation itself is very simple and intuitive. The large 2" display is perfectly designed for optimum overview and good legibility. Aastra's 600d family provides the right mobile assistant for your communication needs, whatever the application.
Contact ABP to learn about this strong family!