2N® NetSpeaker - IP Paging and Audio Broadcasting System over SIP and Multicast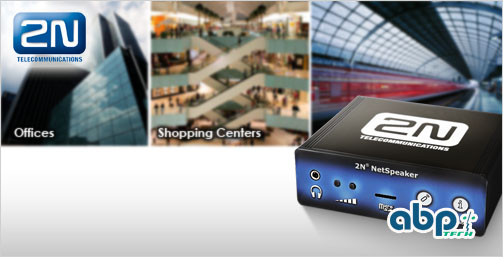 ---
Transform your PC into an IP Broadcasting System
ABP instantly saw the benefits of the 2N NetSpeaker after our initial testing. The unique features of this system are in the software but even without the advanced functionality of creating zones and having different content going to different NetSpeakers, there is SIP capability in the devices as well. You can integrate these with any of our IP-PBX's and have the hunt groups and call routing through the PBX. There is support for multicasting on the audio which can be broadcasted messages for a user or even music streams from a variety of sources.
The 2N® NetSpeaker is an IP audio system that enables acoustic communication or other audio streams to be played from a given PC in a LAN/WAN network. For audio transmission over IP all you need to do is connect a standard speaker or amplifier to the 2N® NetSpeaker, thus creating a virtual central broadcasting system. This allows for any audio to be played with the options to create separate zones with different communication content. A use for this solution is found, for instance, in schools, shopping malls, office buildings, at train stations, in athletic stadiums, health facilities and in many other public spaces.
The 2N® NetSpeaker Console uses simple controls for management and users. A clear display of the set zone and updated information on played soundtracks provides for user-friendly audio playing. The system administrator will appreciate the option of setting access user accounts and their rights to the 2N® NetSpeaker Server. This can be installed either on a separate server or together with the 2N® NetSpeaker Console application.
The currently existing LAN/WAN network can be utilised for installation of the 2N® NetSpeaker. This significantly reduces the time needed to implement the entire device and also saves on installation costs for cabling or modification of 100 V wiring.

Advantages:
Effective dissemination of advertisements

Option of creating separate zones

Central management

Use of existing LAN/WAN network

Fast and simple installation

High level of reliability

Easy and user-friendly operation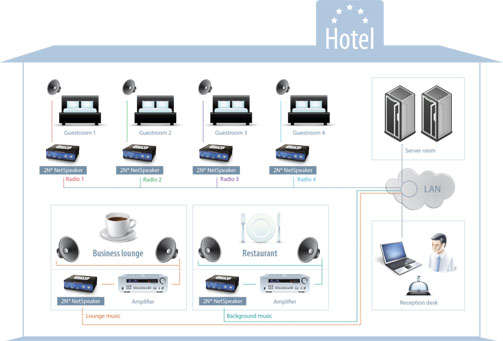 Contact ABP to learn more about the 2N® NetSpeaker.