Service Providers - Team with ABP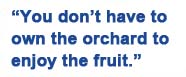 The big question for most Service Providers is, "I could do it all myself, but should I make that investment." Asking, "Where else should I put my money and my resources". Many ISPs, ITSPs WISPs and LECs of all sizes, covering domestic and international geographies trust ABP with their product sourcing, provisioning, configuration and fulfillment. Like a highly regarded company employee, ABP delivers quality processes and throughput to a variety of service provider companies. Our clients count on ABP to deliver timely, innovative and productive solutions for their business mission. Offering VoIP Industry leading products and services, ABP delivers the best in pre-sales advice, inventory availability, provisioning, fulfillment, engineering, training and tech support. ABP has all the processes in-place for a seamless, one stop shop the service providers need to successfully compete in this expanding world of VoIP.
Teaming with ABP gives you a competitive advantage by leveraging our entire portfolio of high margin-producing products and services. Whether you are a start-up or well seasoned, ABP has the best-of-breed hardware/software partners and carrier class services. ABP unravels the challenges of combining networking, telephony, IT, WiFi, security to create a new level of competency and capability. This allows our clients to market and win with VoIP.
Linksys PAP2T or Linksys 2102

Always use the Best Product for every application. Long-term quality reduces TCO and always gives you higher ROI. Every failure initiates a churn and causes additional expenses to re-acquire a customer. You could spend more than twice the price of the ATA device just to gain and keep one customer. Not a good strategy for making any profits. So let ABP do the configuration, fulfillment and even reverse logistics (RMAs) when required. When we pre-configure your devices you not only get a working, tested model but also 100% quality assurance that it works when it leaves our dock. Add in such marketing advantages as a private label or repackaging with your marketing material and immediately you get extra marketing push for your brand with every shipment. A great way to get your company name ahead of the competition.
Let ABP do the logistics and reverse logisitics (RMAs) for you. We also preconfigure your devices, private label or repackage with your marketing material.
Put ABP on your team today. Contact us at isp@abptech.com.
---
VoIP Service Provider Starter Platform
We recently introduced VOIPSwitch a starter platform for Service Providers. VoipSwitch runs on Windows Server 2003 and/or Windows XP and supports a full VoIP Service provider platform for residential users including a custom softphone, a calling card, call shop solution plus a billing package.